Your business' guide to internet continuity
Infoprotect's Cradlepoint NetCloud Service supplies wireless edge solutions built for immediate network availability in preparation for opening day.
Opening a new store or office requires complex coordination of so many details — and usually on a strict deadline. With revenue and important services at stake, one thing you can't afford to wait for is network access. Wired lines often take a long time to be installed, which jeopardises business goals.
Cradlepoint's mobile LTE connectivity solves
potential connection downtime
With Infoprotect's Cradlepoint NetCloud Service and wireless, all-in-one edge routers, organisations can use LTE as the primary WAN, ensuring immediate connectivity so they can quickly pivot to preparations for opening day.
Whether you're a restaurant, retail store, health care office, financial service, storage facility or fitness centre, day one waits for nobody. Make sure you are connected and ready for continuous, consistent customer experience.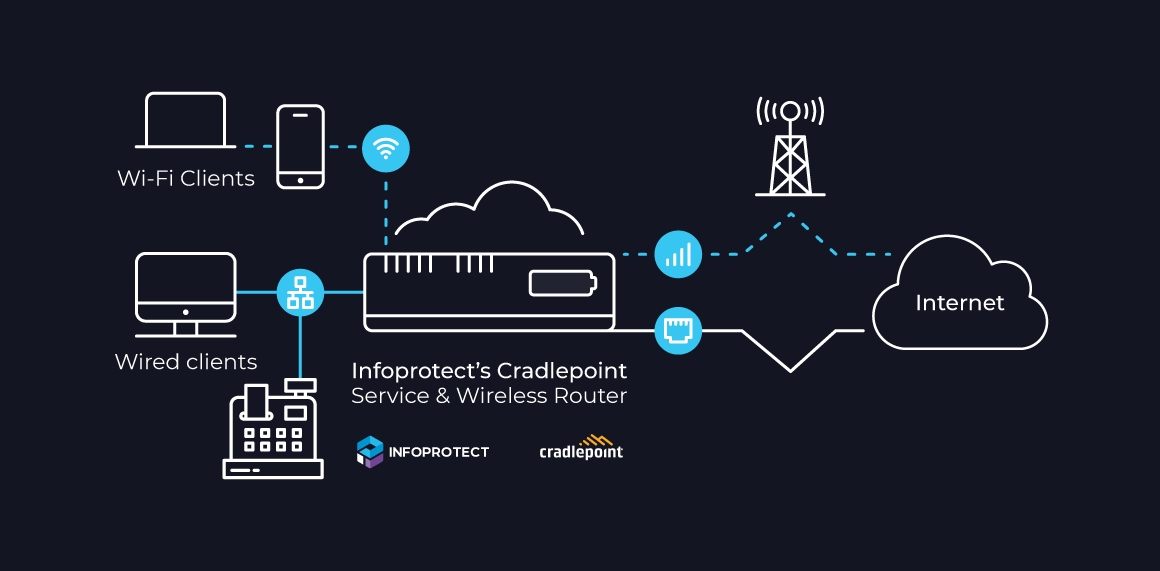 Here's some of the benefits of Infoprotect's Cradlepoint NetCloud Service for your business
Avoid waiting for wired lines to be available
Wired lines? Opening day can't wait. Immediately set up secure WAN and LAN connectivity at new locations through plug-and-play LTE routers.
Stay flexible to choose any connection configuration
Once a wired connection is available, have the flexibility to choose from a variety of multi-WAN configurations and SD-WAN features through one solution.
Centrally manage plug-and-play solutions
Let store managers set up connectivity, but centrally monitor and centrally configurations, security, device access, and traffic usage.
Infoprotect is your partner en route to day one connectivity
More than 20,000 branch, mobile, and IoT customers across 50+ countries rely on Cradlepoint. In South Africa, local information and communications technology supplier Infoprotect supplies, installs and maintains Cradlepoint solutions through a unique managed services approach.
"The timing of construction doesn't always coordinate with provisioning. With Cradlepoint, I can get that place open regardless. We can easily deploy and manage several hundred stores with our small staff — and without Cradlepoint NetCloud and these routers, that would be impossible."

– Dave Gifford
Network Coordinator, Piada Italian Street Food
Make sure your business don't lose momentum or compromise on customer loyalty due to lapses in your connectivity. Be ready from day one with Infoprotect's Cradlepoint solutions.
Talk to the Infoprotect team today.